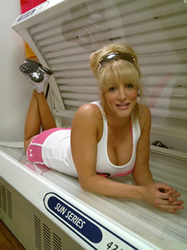 At Attitudes with Style, we are dedicated to providing you with the safest, cleanest, most relaxing way to tan. We offer the top of the line, most cutting-edge indoor tanning equipment on the market.
All of our clients are treated with the same level of care and attention. We understand that looking and feeling great is important to everyone. So whether you're dashing in to prepare for a vacation, getting bronzed for a special event or regularly visiting us to maintain a healthy complexion all year round, we appreciate your business.
At Attitudes with Style we are dedicated to making sure that you get the tan of your experience is always a positive one. To ensure maximum results we clean, service and change the lamps in our beds on a regular basis and carry the largest selection of tanning lotions from Designer Skin, Supre, Devoted Creations, and Norvell. If you don't see what you want we are happy to special order it for you!
Our priority is making your visit as enjoyable, refreshing, comfortable and relaxing as it can be. In addition to our tanning beds we offer UV free sunless tanning.